Guardian Hurricane Protection Customer's Feedback
See what they say about us
We used Guardian for our business for new hurricane resistant windows and they did an absolutely amazing job. Jose and Los Gueros were quick, professional, and incredibly thorough in the job they did. I absolutely without hesitation recommend Guardian!
Awesome people awesome service that's all I can say is there truly wonderful company I would go to them for all my hurricane and windows and I would recommend everybody go to them
I have been meaning to write a review of Guardian Shutters/Guardian Hurricane Protection for a while now. I had two experiences with this company, both positive. My first experience was before Hurricane Irma. When my home was purchased two years ago it came with panel shutters. Since I didn't have to use them, I didn't check they were all there when the home was purchased from the original owners. So when Hurricane Irma was coming, and all the panel shutters I had were put on, I noticed I was missing one.... the one in the largest window in my house that is located in my living room. I cursed the original owners and then I drove around frantically driving from place to place trying to find some type of lumber to cover my window for the storm... no luck! In desperation I called Guardian because they were the ones who sold all the shutters to my development and asked if they by chance had anything they could give me. They did! Oh my god I jumped for joy. We went over there and they actually just gave it to me free of charge! What nice people! As I was there I spoke with them about perhaps coming in and installing accordion shutters as they are easier than the panels to get ready for a storm, they said they would be happy to give me an estimate after the storm and that they would lower the price by $750 if I gave them all the panel shutters I did have. Anyway I was super lucky that I got this to cover the large window in my living room, during the storm a tree I had in the backyard was lifted and hurled at that window. I know because sometime during the night i heard a large bang! After the storm passed I noticed a small dent on the panel and my tree against it. If I hadn't gotten that panel, at the very least my living room would have been destroyed! Fast forward to earlier this year, I paid for the installation of the shutters and I got them installed. Now I never have to worry about another storm coming!
Guardian Hurricane were very professional since the first time in they came to do the estimate. Isabella was excellent all the time, the guys that came to do the job did a great job. I strongly recommend them. Thanks
From the bidding process to final installation this company is First Class. Cheers to Daniel Bartlett, Jose Alcarz, Kyle Mole and Jerimiah Pearson. Great work!
My husband and I just had windows installed by Guardian and we couldn't be happier ! The " Double D team " did the install but we are referring to them as the A Team . They were professional, polite , clean and fun to be around while they worked . One window in particular was a bugger to install considering the window height and the minuscule outside area to work . But they accomplished a very difficult feat. I'd recommend Guardian to anyone looking to purchase windows.
"I just wanted to say how pleased I am with my new hurricane windows and sliding glass doors. They look and work great! The installers were very efficient and personable. I will recommend your company to my neighbors."
Guardian Hurricane Protection has been an amazing company to do business with. They replaced all of my windows and exterior doors with hurricane impact windows and doors. The installers, Jose and Jeremiah, were extraordinarily knowledgeable, professional and courteous despite some challenges. I ordered a multi point locking system for the doors. At the time of install Jose noticed the manufacturer failed to produce a finished product that would support the multi point locking system. Jose and Jeremiah possessed the necessary skillset to modify the doors and install them simultaneously. Because of their expertise and desire to go above and beyond my project was completed timely and stress free. Other companies may have sent the doors back to the manufacturer. Guardian Hurricane Protection did not and as a result the doors were modified and installed the same day. If you are looking for a company who values their customers, provides exceptional customer service and has a project supervisor who is reliable and consistently checks in to ensure satisfaction this is the company for you. THANK YOU GUARDIAN HURRICANE PROTECTION for all you do!
"When I decided to replace all my windows and doors in my home to make them hurricane safe, Guardian Hurricane Protection came highly recommended to me by a neighbor. All I can say about this company is they are OUTSTANDING to work with and exceeded my expectations. My project is finished, and I can honestly say that I am sad to be done. Guardian's employees are not only very professional and hardworking…they were a delight to have in my home. Most of them are my adult children's age and I kept thinking to myself I hope my children are as respectful and hardworking as this team of employees. I think the key to the success of Guardian is COMMUNICATION. Even though I was out of town a ton while this project was being done, they did a great job of keeping me in the loop through texts, emails, phone calls and photographs throughout the entire project. I want to thank Brad, Dan, Mason, Chris, Jay, Haley, Carol, the painters, the security company and anyone else that worked on my house. | wish I had another project that I could have them do because I am going to miss all of them. I didn't meet the owners of Guardian but I want to thank them for making customer service a top priority and for doing such a great job of recruiting outstanding employees. Keep up the good work."
To say we are pleased is definitely MIS-STATED. We are ecstatic! Peace of mind was our initial concern and now with the roll downs we have gained this and so much more. We've discovered how appealing the Lanai is with the added shade in the summer and warmth in the winter months. The shutters are exactly as described, from ease of use all the way to aesthetics. The installation was timely, the installers were courteous, detailed oriented, and treated my property as if they owned it. Many Thanks! Beth and Joe Britton
these guys show up on time and get the job done right I actually used them to install accordion shutters on two different homes in two different cities in Broward county in the past week. Both inspectors from each city told me they went above and beyond to meet city approval. The shutters look great and I'm happy I chose them. Feel free to say Todd referred you!
We decided to use Guardian for all 3 types of protection. We got electric roll downs for lanai, 3 high impact windows and old fashion manual shutters for the sides of the house. We could not have been more happy with the company. Got estimate soon after they looked at our house and windows. The installers were very professional and courteous. I highly recommend this company. I have already recommended it to a friend who is planning on using them.
Guardian has quality installers great customer service, those güeros del Norte really know their stuff
This is a great company to work for, I've been here for seven years now. All the employees are good people and easy to get along with.
Good morning – I wanted to let you all know that I LOVE my new room and I can't thank you all enough for a job well done. Your guys were GREAT – I could not be happier. Thank you again – please pass my pleasure on to the rest of the crew. I will be sure to recommend Guardian in the future.
Hi Tom, Great talking to you today. As I mentioned we're extremely happy with both the window quality and the professionalism of the install. Completely exceeded our expectations! We will be ordering more windows in the near future! I've attached 2 videos. The short video (1447) was taken 3 hours before the eye wall hit and was the video shown on WINK news. The larger video was taken as the eye wall hit and winds were about at the maximum level. All of our other windows on this side of the house leaked quite a bit of water. The 2 windows and french door just installed experienced 0 wind driven water coming through! You can't get a much better testimonial on the windows than a Cat 4 hurricane eye wall direct hit! I hope the video helps you sell some windows! We would also be happy to provide a reference to any potential customers. Thanks again and we look forward to continued business with you! Jeff Gakstatter
Tom, I want to thank you for the professional service your company provided to me as well as my clients. We, who work hard to make a living in the real estate world, greatly appreciate companies like yours who say what they are going to do and exceed all of our expectations. I will always recommend you and your company. Best regards, John Nicholson, VIP Realty Group
"Thank you for the excellent job Guardian did installing our new windows and sliders. We were very pleased with the professionalism and care your installers took with the installations. Having our unit protected was our primary consideration. We are delighted with the updated and refreshed look of the new windows and sliders. They glide well and locking mechanisms are easy to use. Your installers were meticulous, no interior or exterior walls or paint were damaged. We are just thrilled."
"I just want to pass along how pleased I am with the Guardian crew that did the install. They were very courteous and professional. Our questions and concerns were addressed and they did an outstanding job. Please pass that along to the guys."
"Thanks for all the hurricane posts Tommy & Christi Fiebelkorn. Very helpful. Stay safe. We feel really safe with our shutters you installed. We love them. ❤❤"
Dear Tom & Mark, I would like to thank you for a job well done. Our purchase has been a pleasure every step of the way. My new windows look beautiful. Your installers were quick, clean and very courteous. They arrived on time each day and did not leave until our job was complete. I highly recommend Guardian Hurricane Protection to anyone looking for new windows and doors. Sincerely, Judy U. Naples FL
"Daniel, Just a note to let you know how glad John and I are to have had Guardian install our windows and doors last year. John was at our home during the height of the storm and said he was amazed at how muffled the sounds from outside were and that we experienced no water seepage.. Just want to let you know we are very happy with our decision to use your company. It was a very timely 'great decision'. Best regards, and I hope Florida recovers soon."
Guardian has the best prices and uses high quality products/materials. I got 4 quotes for motorized hurricane screens/shades to be installed out on my lanai, and Guardian was the most competitive; even the city's building inspector was impressed with and commented on the quality of the product. I had a minor issue with the initial installation which was resolved quickly and without any problem. I recommend Guardian and will use them again for all my future hurricane protection needs.
Great company for hurricane protection
"Just a quick note to tell you how happy we are with the new shutters and what at GREAT job Mark and Travis did. They beat our expectations for sure. Thanks again!"
"Dear Tom, Dan and Company, Our hurricane windows were installed by you about one year ago. We never expected to have to rely on them but Hurricane Irma hit us this week dead on at the beach in Marco Island. We are on the 14th floor of South Seas Towers so we were hit with 130-160 mile per hour winds. We have just seen the first pictures of the building and it looks like our windows are all safe and sound. Unfortunately, for others, that is not the case. We will certainly continue to recommend you to everyone. Not only were you great to work with, you installed a quality product. Thank you so much!!!!"
"Hurricane help for a friend…hes the man!! #GuardianHurricaneProtection"
"So grateful for these fellas working hard to protect our home while my hubby is working hard in the surgery center and hospital. It's getting dark in my house but we are relieved to be as prepared as we can be. Thank you because I know you need time to prepare your homes too! Shout out to Guardian Hurricane Protection!"
"Sirs, my name is Raymond Auld. Earlier today your company installed two hurricane impact windows at my condo located at the Smokehouse Bay Club( W Elkcam Circle) in Marco Island. The job was very well done and I wanted you folks to know the two gentlemen you assigned did a great job. Brad and Austin were friendly and very professional. They should be commended for their professionalism. Thank you again, Raymond Auld. 676 W Elkcam Circle, unit 1223 Marco Island."
"Thank you for meeting our expectations with these hurricane shutters. They not only will provide safety in stormy weather, but will also give us shade and privacy. We will be using your shutters every day because we are permanent residents here in The Isles of Collier Preserve. We would be glad to let any other potential customers check out your workmanship."
"Within days after my call, Mark and Tom came and measured for my new impact windows, quickly and efficiently. When installation day came around, Dennis and his team arrived on time, worked hard, finished fast. They were a pleasure to have around,–kind and courteous. Guardian is a wonderful company to work with."
"We are extremely pleased with our hurricane sliding glass doors that were installed by Guardian Hurricane Protection. The large selection of displays in their showroom was extremely helpful in visualizing how the products would upgrade the appearance and functionality of the hurricane shutters that were replaced. The extensive experience of co-owners Tom and Mark was invaluable in achieving the maximum view through the doors. Their suggestions also resulted in accessibility for cleaning the outside portion of the glass as well as clearance should the screens ever need to be replaced. Every member of the Guardian team was courteous, helpful, responsive and meticulous. The installation team worked well together with efficiency and carefulness that would be expected if each person owned the business. We thoroughly enjoy the view and using the lanai year-round.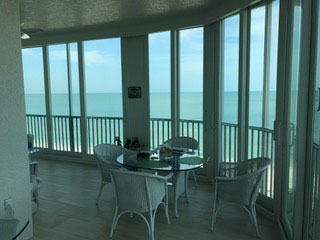 PS: The window cleaner below worked like a charm. We purchased the model that works with glass up to 1.25" thick. The key is to use enough soap solution on both sides of the glass so the device slides smoothly and move from one side to the other slowly so the magnets hold the two halves together. I use about a teaspoon of dish detergent in a garden sprayer."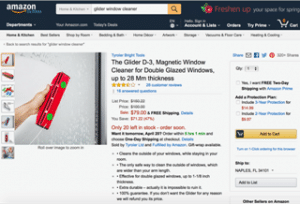 Thank you for the great job installing my roll down shutters. Our home is now fully protected and lanai furnishings secure. Your staff was a pleasure to work with. Bob S. Marco Island
"Many thanks for a job very well done. Your crew, Brad and Phil, were very courteous and did an outstanding job checking out my shutter and installing the new motor. Please pass on to them my sincere appreciation. I also appreciate your superb support and help in getting my shutter fixed." – SW, Marco Island
Take time to visit us here!
See the latest blogs from our website!