Guardian Hurricane fabric screens use deflection to absorb large missile impacts and wind energy generated by hurricane or severe weather. It is important to protect your home and business establishment from hurricanes and storms. Strong winds can damage your glass windows but with fabric screens, you will have the needed protection.
Fabric Screen by Guardian Hurricane is affordable and lightweight and is an effective barrier against damaging storms. Guardian Hurricane is the best and affordable hurricane screen protection you can have in Southwest Florida.
Hurricane fabric screens can be directly attached to structures or can be mounted on tracks. They are made of semi-porous polypropylene fabrics that are easily modified to fit wide openings like your arches, trapezoids and even circular shapes. Hurricane fabric screen benefits are lightweight, FBG approved, easily deployed and also allow natural light into protected areas. Hurricane fabric screens can be manually or electronically operated for your convenience thanks to the industry's advance system of remote controls.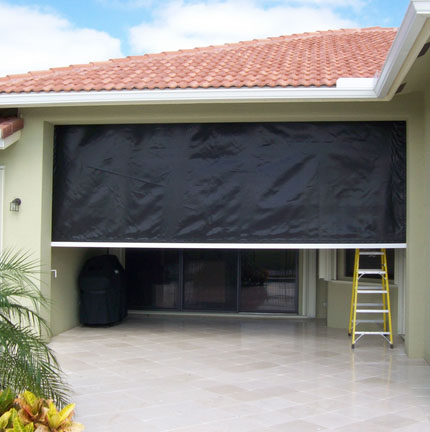 Aside from fabric screens we also have shutters like:
Accordion Shutters

– excellent for large span, upper floor windows, and high rise buildings.

Bahama Hurricane Shutters

– guards your windows against high impact winds, blocks flying objects and protects your windows during hurricanes.

Rolling Shutters

– provide complete storm protection, security, and noise reduction for any windows or door opening.

Hurricane Panels

– can withstand wind speed to over 170 mph, provides natural light and offer a lower-cost solution for hurricane protection.
Guardian Hurricane Protection will help you find the right product for your project and budget. We offer free design consultation before you make your selection. Our expert team will help you customize your shutters from colors, styles, and selections. We only use the best materials to manufacture our shutters and our products are tested and approved to exceed current Florida Building Codes, ASTM and Miami-Dade protocols.
Servicing businesses and homeowners in Bonita Springs, Cape Coral, Estero, Fort Myers, Lehigh Acres, Marco Island, Naples, and nearby Counties. Contact us at 239-438-4732 / 239-244-2015 for faster response or visit https://www.guardianhurricaneprotection.com/ for more services and details. Our goal is for every client to be completely satisfied with the products purchased as well as the installation work provided.